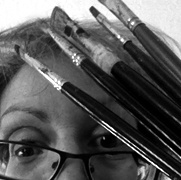 Things aren't always as they appear to be. At first glance my paintings may
make you smile but the true meaning lies just beneath.
I am a classically trained artist inspired by present day life. Through the medium

of oil painting, I create narrative pieces that explore the delicate balance between
humans and animals. Using a juxtaposition of old master style and current global
issues, my work is a visual commentary on world circumstances. With a little humour
and a gentle nudge, the message is delivered.

Judy was born and raised in Toronto, Canada. She graduated the Advertising and Graphic Design program at
Humber College as well as taking additional courses at OCAD. After a successful career in graphic design and
illustration, Judy continued her fine art training in Florence, Italy. She has been invited to jury shows and conduct
workshops. She also teaches classes from her personal studio. Judy has won awards, is represented in galleries

and has work in corporate and private collections.